Fresh Asian Pears Delivery
Looking for the ideal fruit baskets delivery? One that is healthy, delicious, and wonderfully unique? Order our pears online. Our Asian Pear gifts are terrific, healthful snacks for your friends and family, anytime. Share an all-natural gift of mail order pears via fresh fruit gift box delivery directly from our Pennsylvania orchards. Asian Pears also make great gifts for your clients and co-workers. Send a thank you with a gift box of mail order fruit today.
Order Fresh Asian Pears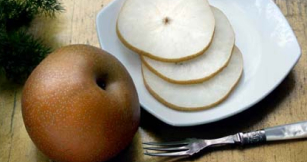 The Japanese pear is firm but delicate, so once picked, they need to be packed with care. When Subarashii Kudamono customers order pears, we pride ourselves on wrapping each Asian fruit carefully at our orchard and placing it in a soft foam sleeve then setting each pear gently in a gift box. Delivery should be quick (often express or second day air) when you buy Asian Pears online in order to ensure freshness and free from damage during shipping.
Delivery options:
Small box of pears typically contains 4 to 6 small pears;
Medium box typically contains 5 to 7 medium-sized pears;
Large box includes 9 or more larger pears.
When you see a gift box of our pears for sale, you'll know that you are getting a great price for the highest quality Asian Pears for delivery.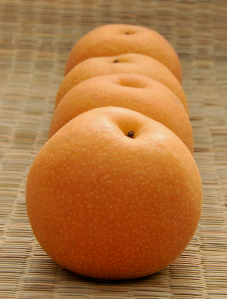 The Asian Gourmet Pear as a Corporate Gift
Fruit is often associated with relationships. For example, the pineapple suggests hospitality. An apple salutes educators. Gourmet Asian pears traditionally suggest "good fortune" or "good luck", particularly in business, one of many reasons why Subarashii Asian Pears make an excellent corporate gift during the Fall holidays of gift-giving.
Why Give Our Pears?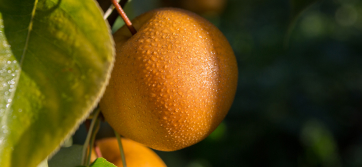 Subarashii Kudamono Asian Pears are a great gift idea to share to say thank you or good luck – as the pineapple suggests hospitality; an apple salutes educators, Japanese Pears traditionally suggest "good fortune' or good luck (particularly in businesss) why not order pears to say thank you to your clients, customers, vendors for their hard work or wish them well for a prosperous new year? And what better time to say thanks than during the week of Thanksgiving? If you can't be at a particular place for Thanksgiving – buy Asian Pears for a good price at our store and send a glorious gift box to your loved ones for the holidays!
Our Secrets of Growing and Storing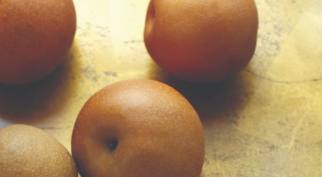 After planting seedlings and nurturing young Asian Pear trees, biodegradable bands are used to pull the tender branches from a young tree away from its trunk. This trains the branches to grow sideways instead of upwards, which is their natural tendency.
An Asian Pear team member slides the rubber band onto a slim, young, green branch and then carefully pulls the branch sideways and hooks the other end of the rubber band to either a mature tree trunk or limb.
Training the branches to grow sideways allows more sunshine to kiss the pears, which makes for a sweeter Subarashii Kudamono Asian Pear. It also organizes the branches into a trellis style format, creating a well-balanced and healthy tree that will support many delicious Asian Gourmet Pears in the seasons ahead.
Additionally, strips of red and silver Mylar are tied into each Asian Pear tree in the late summer to make the orchard look as if it is on fire. This practice of growing gourmet pears is not a trick of the eyes or a clever marketing ploy. This is actually a tactic to deter birds from harming the ripening fruit.
Once Asian Pears are picked, shipped, and arrive at your door, they can be stored at room temperature for up to one week. Store them in a bowl or put them directly on your countertop.
Asian Pears can be stored for for several in your refrigerator. Placing them in a fruit drawer or on a refrigerator shelf can prevent crushing or bruising.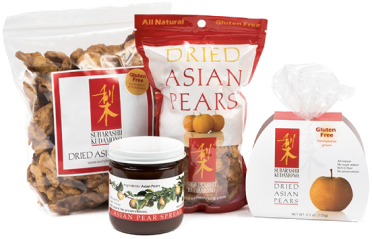 Flavorful offerings from our orchards, enjoy any time of year!
From all-natural dried Asian Pears, to our unique sweet & savory Asian Pear Spread and our newest vintage of our Aged Pear Vinegar… Subarashii Kudamono has taken Asian Pears and fruit gift baskets to the next level of gourmet experiences.
Visit Our Pantry
How to Ship Asian Pears for Holiday Gifts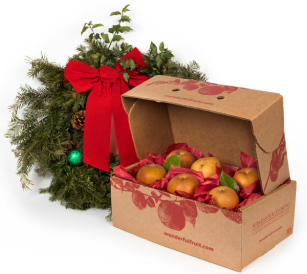 Looking for a unique gift this year? Send crisp and juicy Subarashii Kudamono Asian Pears! Or order pears for yourself! Our Japanese Pears are carefully boxed and sent ground or express shipping at the most reasonable price possible to ensure that your gift box delivery arrives fresh.
When you buy Asian Pears, they are beautiful on a holiday table; as part of a charcuterie and cheese board, in a decadent, fresh Asian fruit salad or as part of a favorite holiday dish!
Our pears for sale are shipped fresh, ripe, packed in a cushion-lined gift box, and ready to enjoy.
FAQs About Asian Pears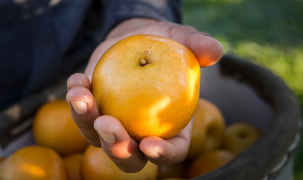 Q: What is the difference between an Asian Pear and the kind of pears we usually see at the supermarket?
A: An Asian pear is not only rounder than a European variety that we're accustomed to, as an heirloom variety it boasts a flavor profile that's a lot deeper, making it much sweeter and juicier.
Q: Can I cook with Asian Pears?
A: Glad you asked! CLICK HERE for our recipe section.
Q: Where do Asian Pears come from?
A: Even though they are also called "Japanese Pears", The Asian pear actually originated in western China before arriving in Japan.
Q: When is your harvest season?
A: The pears at our orchard start ripening at the beginning of August, and harvest season is often from late August until the beginning of November.
Q: How long can I store my Asian Pears?
A: Asian Pears can last for several months, if kept in the refrigerator at around 36 to 38 degrees Fahrenheit.
Q: What pears are native to the United States?
A: Actually, pears are not native to the U.S. They are originally from China, moved through Asia and Europe, and were brought over to the U.S. by settlers.
Q: What does "Subarashii Kudamono" mean?
A: "Subarashii Kudamono" is a romaji (English spelling) version of the Japanese text in our logo, and the words translate to "Wonderful Fruit". We named our orchard this because we believe our Asian Pears are the most wonderful fruit.
Q: Do Asian Pears have a gift meaning?
A: The Japanese Pear is a great gift idea to share to say thank you or good luck – as the pineapple suggests hospitality; an apple salutes educators, asian pears traditionally suggest "good fortune' or good luck, particularly in business.
Q: What can we learn from Asian Pears?
A: Educators are always looking for fresh ideas to not only inform students about healthy eating (fresh fruits/veggies) but avenues through which to talk about topics such as agriculture, soil, weather, engineering, farming etc. A box of our Asian Pears has been a successful way to introduce these topics to young students, so thank a science teacher today!
Q: How did Subarashii Kudamono get started?
A: The Lehigh Valley, PA based company began shortly after Joel Spira, the late Lutron founder and inventor of the dimmer switch, enjoyed an Asian pear while on business in Japan in 1973. After returning home, he found the fruit difficult to obtain, so he and his botanist wife, Ruth Rodale Spira, endeavored to grow their own.
Q: Why do Asian Pears make a good holiday gift?
A: Consider that just about every holiday party is packed with sugar, flour, fat, and is served with a side order of flour, fat, and sugar. Our Asian fruit is a beautiful, healthy alternative.
Are Asian Pears Healthy?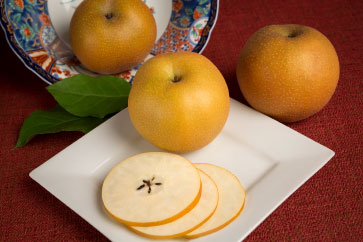 One raw, medium Japanese pear (133g) has 50 calories. It contains 13g of carbohydrates and 4g of fiber. Dietary fiber is healthy in many ways. We feel full longer, and fiber stabilizes our blood pressure and cholesterol, which improves heart health.
Asian Pears also contain Vitamin C, which helps our immune system and helps us produce collagen. They also contain Vitamin K, which assists with blood clotting.
The Subarashii Kudamono Asian Pear is naturally very low in saturated fat, cholesterol, and sodium.