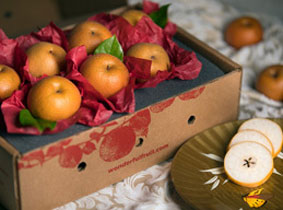 Variety Gift Collection
The Asian Pear enthusiast dream gift: an exclusive variety collection featuring several types of our Asian Pears. A limited edition offering, available while supplies last!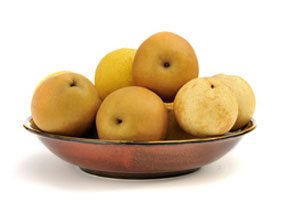 Fruit du Jour Gift Box
When you purchase, our orchard team will personally select the tree-ripened variety to hand-pack for your gift. What better way to say thank you this Fall or Happy Holidays.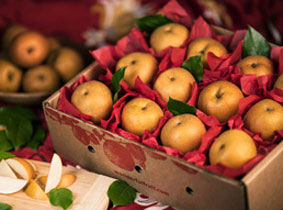 Artisan's Choice Gift Box
Choose your pears! Small, medium, and large gift boxes filled with our exclusive varieties of fresh Asian Pears can be shipped anywhere in the U.S.
Grown in the fertile soil of Eastern Pennsylvania, Subarashii Kudamono Asian Pears are the premier Asian Pears in the U.S. Our Asian Pear gifts, filled with our Asian Pears, is a wonderful way to discover their supremely juicy, crisp and sweet flavor first hand. Our mail order pears will become the favorite for your table, as well as, exciting to share as delicious fruit gift baskets. Visit our shop page for our mail order fruit as well as our seasonal Asian Pear gifts.