EXCLUSIVE HOLIDAY SPECIAL Use code holiday19: 50% OFF SHIPPING!*
*Valid now through 12/31/19. Fresh fruit only.  For East Coast and Central destinations only.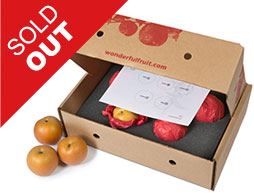 Variety Gift Collection
The Asian Pear enthusiast dream gift: an exclusive variety collection featuring several types of our Asian Pears. A limited edition offering, available while supplies last!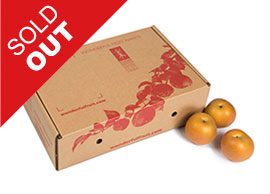 We Pay Attention
When you purchase, our orchard team will personally select the tree-ripened variety to hand-pack for your gift. What better way to say thank you this Fall or Happy Holidays.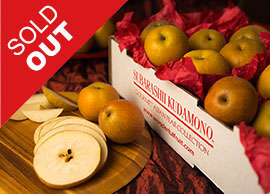 Artisan's Choice Gift Box
Choose your pears! Small, medium, and large gift boxes filled with our exclusive varieties of fresh Asian Pears can be shipped anywhere in the U.S.
"I love that we can send something from where we live (our friends and relatives do not live in the Valley) and you can't argue with the uniqueness and superior quality of the fruit."
- Chris, Lehigh Valley, PA
Dried Asian Pears
Asian Pear Spread
From our all-natural dried Asian Pears, to our unique sweet & savory Asian Pear Spread and our soon to be released Aged Pear Vinegar…Subarashii Kudamono has taken Asian pears to the next level of gourmet experiences.
VISIT OUR PANTRY
"I'll be using these for stocking stuffers!"
- Walt, Lehigh Valley, PA
Our Asian Pear gifts are ideal ways to share a thank you with your customers, clients or business partners.
We offer delicious gourmet Asian Pear gifts direct from our Pennsylvania orchards year 'round, but in the Fall and Winter months, as we harvest our crop of fresh Asian Pears, we are proud to offer the most delicious gift you'll ever give: gift baskets of the fresh and exquisite Subarashii Kudamono Asian Pears.
Each Asian Pear is hand-picked, hand-wrapped and hand-packed in gifts shipped to your recipients. When opened, the gift box is quite dramatic in effect. Plus, what is more delightful than a flavorful and healthy gift of Pennsylvania grown fresh fruit?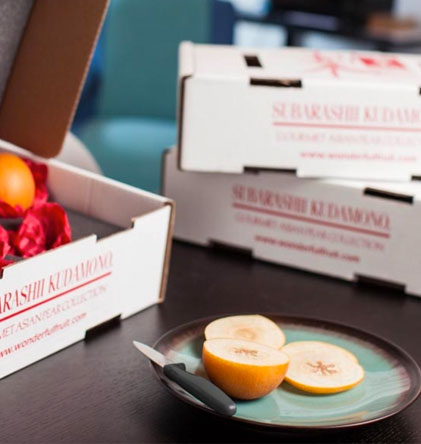 Wonderfully Grown in Pennsylvania, from Farm to Table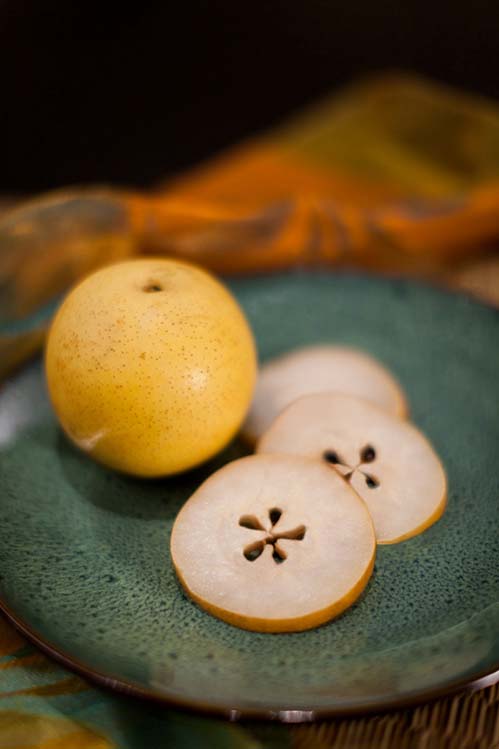 Grown in the fertile soil of Eastern Pennsylvania, Subarashii Kudamono Asian Pears are the premier Asian Pears in the U.S. Our fresh fruit gift baskets, filled with our Asian Pears, are the best way to discover their supremely juicy, crisp and sweet flavor first hand. Our pears will become the favorite for your table as well as exciting to share as wonderful fruit gift baskets. Visit our shop page for our fruit gift basket ideas.
Asian Pears originated in Asia a millennia ago from roses, bestowing these unique pears with their great beauty. The intoxicating scent of their floral ancestry evolved into their modern day captivating flavors as edible fruit.
Joel Spira, successful inventor and founder of Lutron Electronics Co., first tasted Asian Pear varieties in Japan in the 1970's. So enchanted with the Asian Pear, he brought back some of the fruit's seeds and grew them into Asian Pear trees in his own Pennsylvania backyard. Mr. Spira's wife, Ruth Rodale Spira, a trained botanist, diversified the Asian Pear trees into American-style Asian Pear varieties, further evolving the Asian Pears into what we call Subarashii Kudamono, Japanese for "wonderful fruit."