Fresh Asian Pears:
Fruit du Jour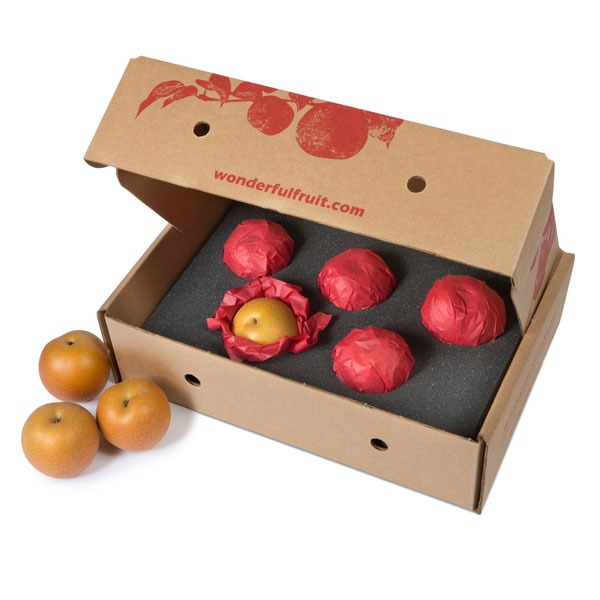 Our Pear Sizes:

We look forward to sharing this gift box with you again in August 2022!
Sweet, incredibly juicy, crisp, and flavorful Asian Pears are hand-picked from our beautiful Asian Pear trees each Fall Harvest season.
Hand-selected and shipped direct to your home, office, or school from our Pennsylvania orchards, this gift box of unique fruit is a wonderful way to greet the harvest months as well as any of the holidays that make Winter months so special. What better way to say thank you this Fall or happy holidays - than with our most wonderful fruit.
Please note, when you make your purchase, our orchard team will select the tree-ripened variety to freshly hand-pack for your gift. Our small gift box typically contains 4 to 6 pears; the medium gift box typically contains 5 pears. The quantity of pears in our large gift box includes 12 or more pears.
To learn more about the diverse flavors of our fruit, visit our varieties page. Curious about our other offerings? Please visit our Shop page for our other healthful offerings.
Visit our Artisan's Choice page for details about which of our individual pear varieties are available for purchase. It is a fruitful harvest season and we are delighted to offer delicious and flavorful fruit by preference.
Pear Varieties

AsaJu Asian Pear

This variety will be available soon from our 2022 Harvest!

Our fabulous Harvest of Japanese Pear trees always begins with our distinctive Asaju Asian Pear, picked in early September, but often available through the holidays. This variety is suggestive of a light and crisp un-oaked Chardonnay, with notes of honeydew melon and plum. Its flavor will dance on your palate.

Asaju has a delicately crunchy texture reminiscent to a water chestnut, while still remaining juicy in character. This pear is enrobed in an elegant, Champagne-colored skin with russetting and dappling on its surface. The color of this pear is a gem-like quality, similar to Citrine.

During most growing seasons, the extraordinary skin on this pear is achieved through an intricate process. This is the exclusive variety that we individually slip into wax-lined bags each Spring while the fruit is still young on the Japanese Pear trees. The bag allows the Asaju fruit to develop its distinctive thin skin all Summer long as these masked pears bask in the sun. Hanging from our Japanese Pear trees, each Asaju pear develops a luminous, yellow finish.

JunoSan Asian Pear

This variety will be available soon from our Fall 2022 Harvest!

However, you can still experience JunoSan in our Variety Collection Gift Box. Or please consider trying a gift box of our AnaSan variety instead - deliciously sweet!

JunoSan Asan Pears are picked in Mid-September and throughout the entire harvest season. This Asian Pear has complex flavors ranging from Bartlett pears, Honeycrisp apples to Mandarin oranges, especially with the skin off. The taste of this Asian Pear also teams up two polar opposite flavor profiles: honey nut and top-shelf tequila, combining to make one exquisite pear to bite into.

Crisp on the outside like the crust of an Italian bread, it delicately exudes juiciness, which will amuse and refresh you.

Traditionally kumquat orange, this Asian Pear can surprise with decadent crème brulee crust-colored skin. Chunky yellow lentilcels(dots) decorate the skin, giving this Asian Pear the appearance of a caramel apple with crushed peanuts atop. Ranging in an array of sizes, it is typically a very squat pear in shape.

Add slices of JunoSan Asian Pear to a toasted brie and baguette sandwich, with a touch of spring mix lettuce for a light and healthy alternative.

New Pear Asian Pear

This variety will be available soon from our Fall 2022 Harvest!

Scrumptious "New Pear" is available from September through early November. A bounty of flavors comprises this pear. If eaten with the skin on the pear opens up your taste buds like a summery white sangria or pinot grigio. Peeled you will recognize the zing of lemon and grapefruit laced with mellow golden raisin. This pear is a singular experience with its savory flesh.

New Pear, often called "947 variety," looks as if it has come from an artist's palette. It is banana yellow, with luminous lemon sorbet base color and slight russeting. It has charming brown lenticels(dots) and is a flawlessly round pear.

Adorn arugula and buffalo mozzarella salad with this yellow pear and drizzle with balsamic or our Aged Asian Pear vinegar.

Please note, availability of this variety is limited during the 2020 Harvest season.

EliSan Asian Pear

This variety will be available soon from our Fall 2022 Harvest.

This is one of our newer varieties of Asian Pears. We begin picking it in early to Mid-October, but in some harvest cycles, as early as Labor Day. Hints of kiwi and Granny Smith apple grace this enchanting fruit. You can reap the nutrients in the skin, as keeping it on will not alter the flavor. Bursting with juiciness, this variety will pleasantly surprise you with its crisp and firm texture.

A dressed-down pear with its playfully rippled texture, EliSan has a personality all its own. Virbrant skin shows a beautiful bronzed autumn leaf color with a splash of green across its top. EliSan's short stature and coloration is almost reminiscent of a petite pumpkin.

Use this flavor-rich pear in a salsa for meat or fish. Perhaps use salmon, adorned with a sprig of Thyme.

AnaSan Asian Pear

This variety will be available soon from our Fall 2022 Harvest!

The AnaSan variety of Asian Pear, available late September, has the delectable flavors of melon and spice and subtle aromas of green grass and rain. AnaSan's sweetness inspires thoughts of maple and simple syrups, and is almost like biting into a honeycomb. Eating this Asian Pear with the skin on will not alter its bountiful flavor. It is also has the texture and tremendous juiciness of a watermelon. AnaSan possesses soft and slightly tender flesh.

Bathed with a base coloring that reminds one of pumpkin pie or spaghetti squash, AnaSan sports pale yellow flecks. Its moderately smooth skin makes it enjoyable to touch. This variety is a rather globe-shaped pear, but it varies in size.

Turn luscious slices of this pear into an appetizer and serve with almonds, peanuts, cashews and even green martini olives.

LilySan Asian Pear

This variety will be available soon from our Fall 2022 Harvest!

Traditionally the last of our patented varieties to be picked during our harvest season during late October or early November, LilySan Asian Pear carries a milder, semi-sweet, clear, floral flavor.

It has deep brown, russetted skin with an unique patina and a smooth, wide, round shape.

LilySan also has a more supple flesh than any of our other pears. Because of its rich, fleshy texture, this pear is wonderful for baking or incorporating with meat dishes.

SuSan Asian Pear

This variety will be available soon from our Fall 2022 Harvest!

The patented SuSan variety Asian Pear is the last pick of the season: late October to early November. This Asian Pear will blissfully intoxicate you with its flavors of Port wine or Mead. Its honey-ed taste, combined with citrus and lingonberry, is a distinctive flavor you will remember. Incredibly firm flesh combined with sturdy skin reminiscent of an aged cheese wheel, SuSan is best served with the skin removed.

The SuSan Asian Pear displays Autumnal oak leaf and wood coloring, sprinkled with large lentilcels (dots). Ovate and conical in shape, it almost mimics the shape of an Anjou pear.

This pear holds its crunchiness after baking so it is perfect for an exceptional home-made pie. For a decadent touch, add crème fraiche.