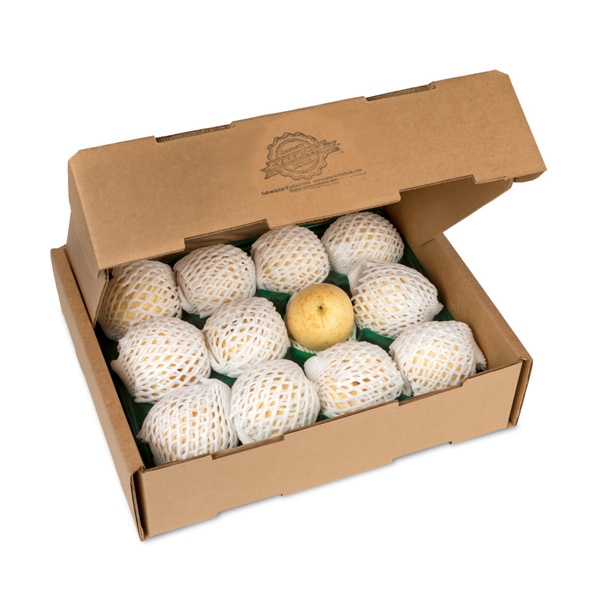 Winter Cyber CSA
This product is sold out for Winter 2019.
Did you know you can escape the Winter blues simply by eating healthy? One way to do this is by enjoying fruit as a snack or as part of a meal. Subarashii's solution for a healthier 2019: Asian Pears.
How? Take advantage of our Winter Cyber CSA special offer, now through February 6, 2019 (final delivery date will be 2/8/19).
In the spirit of healthy & local eating for the New Year and our Winter CSA program: order 2 boxes to ship to any destination East of the Mississipi and receive $7/box flat rate shipping per box when you use promo code: Winter2019.
Through our Subarashii Kudamono Winter CSA, partake in a share of our farm and be part of the farm experience and receive local fruit during the chilly Winter months. CSA's have been growing in popularity with farms all across the country. Winter CSA is your chance to reap the delicious rewards of this phenomenon via a twist on a traditional, late season CSA common to local farms.
What is a CSA exactly? It is a popular way for a consumer to purchase seasonal foods direct from a farm, via a subscription or advance commitment.
Our Subarashii Cyber CSA is a particularly convenient program for those who live in urban areas and cannot get out the farms to pick up their CSA share – also very handy during this often inclement time of year. Let us bring the locally grown fruit experience to you without having to de-frost your car.
The flavors of our fruit range from melon, honey, kiwi, butterscotch, and more. Your 'share' will contain 16 to 18 pears per box (9 lbs of fruit). And if you utilize our promo code (winter2019), 2 boxes of Winter CSA shares will ship simultaneously now through 2/6/19.*
Shipped direct you from our farm from the rolling hillsides of Lehigh Valley/Berks County region of Pennsylvania, this delicious fruit can't be any more healthful.
*or while supplies last
Sizes: Winter Cyber CSA - US $24.95 This product is Sold Out.