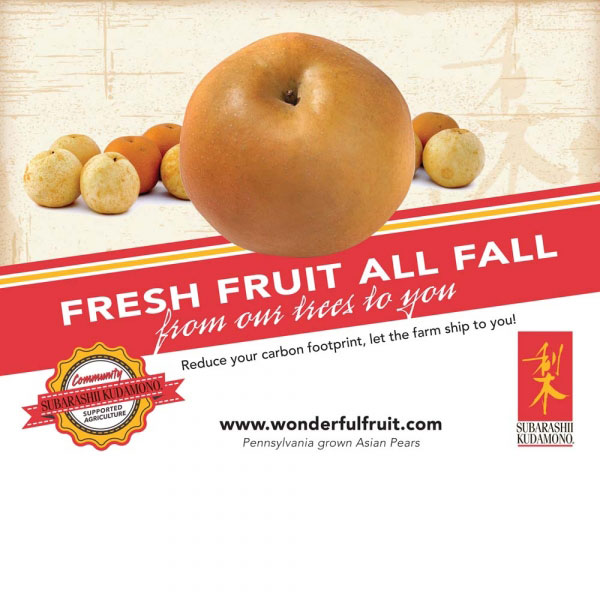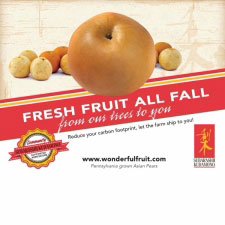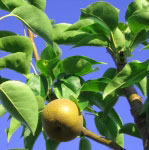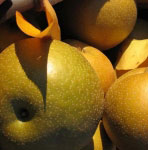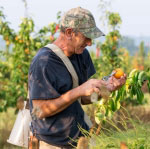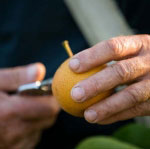 Subarashii Kudamono CSA
It's never to early to plan your share in a CSA for 2018 growing season!
CSA Special: Celebrate National CSA Sign-Up Day, use promo code CSA18 for discounted shipping when you purchase.
Enjoy a box of fresh, Pennsylvania-grown Asian Pears each month during the 2018 harvest season (September through December). Each Autumn month, a different variety of pear will be sent to you. It's our very own cyber-style, Community Supported Agriculture (CSA) program. Fresh fruit - all Fall...shipped direct to you.
Through our Subarashii Kudamono CSA you'll partake in a share of our farm and be part of the farm experience, receiving local, seasonal fruit in the Autumn months. CSA's are growing in popularity in farms all across the country. This is your chance to reap the delicious rewards of this phenomenon.
This is particularly convenient program for those who live in urban areas and cannot get out the farms to pick up their CSA share. Reduce your carbon footprint – we'll bring the farm to you.
The flavors of our fruit ranges from fresh cantalope, kiwi, port wine, butterscotch, rock candy and more. Their juiciness will remind you of a mouth-wateringly crisp, sweet watermelon.
16 to 18 pears per box, 4 boxes per harvest season, nine pounds each box.
A different variety of Asian Pear (yes, fruit of the month-style!) shipped to you each Fall month, based on what we are harvesting from our Subarashii Kudamono orchards.
Shipped direct you from our farms along the rolling hillside of Lehigh Valley/Berks County region of Pennsylvania; this fruit can't be any more fresh!
$99 pre-purchase for the season; PLUS Ground shipping. In the spirit of all things local, this offer is only valid for recipients in local states only: PA, NJ, NY, MD, and DE.
Your credit card will be charged at time of purchase; and you'll be contacted prior to the beginning of our Fall Harvest season with a schedule when your fruit will arrive at your door.
Any questions please contact us: customercare@wonderfulfruit.com
Sizes:
Cyber CSA - US $99.00 (CCSA)